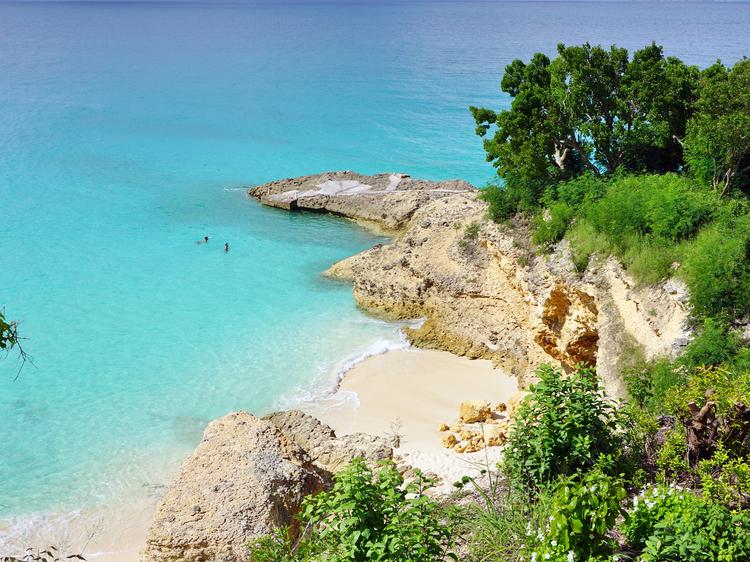 Express Your Inner Child in Anguilla: Top Family-Friendly Activities and Attractions for a Joyful Getaway
Sun, sea, sand, and adventures go hand in hand, and no more so than on the beautiful Caribbean island of Anguilla. With an abundance of sunshine throughout the year, you're guaranteed plenty of bright sunny days on this tropical oasis, making it the perfect spot if you're seeking a sun-soaked destination!
From thrilling water sports to relaxing beach days and cultural explorations, there's something for everyone, and families can enjoy a wide range of activities to keep even the fussiest of little ones entertained. 
Home to several luxurious resorts that offer stunning accommodations, world-class amenities, and breathtaking views, Anguilla is a wonderful spot where you can combine relaxation and recreation with your family. 
Renowned for its pristine, white-sand beaches and calm turquoise waters, every day can be a beach day or an opportunity to indulge in some water activities and discover the abundance of natural sea life that inhabits the Caribbean Sea. 
Whatever you get up to in Anguilla, be prepared for adventure, breathtaking natural beauty, and joyful experiences! 
Let's explore some of the highlights Anguilla has to offer for family-friendly adventures. 
Luxurious Island Resorts
There are several luxury Anguilla island resorts that feature a selection of spacious beachfront accommodations for families on vacation.
With ocean-view locations, a wealth of child-friendly activities, and a range of dining options, choosing a resort is a great way to enjoy the best of relaxed island living in a luxurious setting.
Fun for all the family, you can experience some downtime with the host of amenities such as:
Relaxing pool time

Water sports

Amazing culinary experiences

Personalized excursions
Boat Tours, Snorkeling, and Marine Life Encounters
If you're longing to see all the wonders that lie beneath the ocean's surface, Anguilla is home to vibrant coral reefs teeming with marine life.
Exploring the island's coastline and nearby cays on a boat tour is a relaxing and enjoyable experience for the whole family, and tours often include opportunities for swimming, snorkeling, and picnicking, allowing your family to soak up the sun and enjoy the stunning surroundings. Expect to see an array of sea life on your adventures! 
Sea Turtles
A nesting site for sea turtles, encounters with these gentle creatures are quite common, and snorkeling or diving is a fantastic opportunity to observe their antics in situ. 
Tropical Fish
A haven for a dazzling variety of tropical fish, prepare to see a stunning underwater spectacle of angelfish, butterflyfish, parrotfish, and wrasses during your underwater escapades.
Lobsters and Crabs
You may catch a glimpse of some colorful crustaceans beneath the waves; look closely within the coral formations or under the rocks to discover the lobsters and crabs that reside within the underwater terrain!
Stingrays and Moray Eels
The sandy seabeds around Anguilla attract gentle stingrays that can be spotted gliding effortlessly across the ocean floor. Meanwhile, Moray eels are commonly found in the coral reefs and can often be spotted peeking out from their hiding places.
Nature Explorations
Anguilla's natural beauty offers numerous opportunities for families to explore and appreciate the island's flora and fauna.
Venture through sites like Big Spring Heritage Site, which features petroglyphs and nature trails, or the Salt Ponds in the southwest, where migratory birds can often be spotted, making it the ideal location for exciting and educational experiences for children and parents alike!
Heritage Collection Museum
If you're looking for a more relaxing activity after some extensive water and land adventuring, visit the Heritage Collection Museum. Showcasing the historical and cultural heritage of Anguilla, families can discover interesting artifacts, photographs, and educational displays that depict the island's traditions, art, and history. 
Horseback Riding
For land lovers, what better way to take in the majesty of the island's scenic landscapes than on horseback? With options for beginners and more experienced equestrians, Anguilla has a few establishments that can cater to horseback riding adventures. 
Sunset Adventures
Located in Island Harbour, Seaside Stables offers horseback riding tours along the beach and through Anguilla's lush countryside. Whether you long for a romantic couple's sunset ride or a beach ride with the whole family, the experienced guides ensure a safe and enjoyable experience while showcasing the natural beauty of the island.
Picturesque Trails
Anguilla Equestrian Center provides guided horseback riding excursions through picturesque trails and along secluded beaches. Situated in Cul de Sac, the tours are suitable for riders of all ages and experience levels, with well-trained horses and knowledgeable guides who provide instruction and assistance.
Kayaking
Kayaking is a fantastic way to explore the island's pristine coastline, picturesque coves, and calm waters. You can rent all the necessary equipment from tour operators and find the best kayaking experience for your family, tailored to your preferences and skill level. 
Explore the Coast
Anguilla's coastline offers a variety of scenic spots perfect for kayaking. From secluded bays and hidden beaches to rocky cliffs and offshore islets, there are plenty of places to discover. Kayakers can paddle along the calm turquoise waters, explore coves, and enjoy breathtaking views of the surrounding landscapes.
Sunset Kayaking
For a unique experience, you may want to take a sunset kayaking tour. Offering a serene and romantic setting as you paddle along the coastline, you can breathe in the beautiful sunset views over the stunning blue waters.
Anguilla; A Joyful Haven For Work and Play
Anguilla is undoubtedly one of the world's premier locations for relaxing island adventures, attracting people from all over the world. 
AZUR SEZ, the world's leading special economic zone, offers a waterfront lifestyle for those with more than just a vacation in mind. With a unique community of people, AZUR SEZ is filled with people who work to make a life, not just a living. 
To experience island living all year round, consider setting up your business within AZUR SEZ, and work to make your life.
Ready to work and play? Get in touch today.